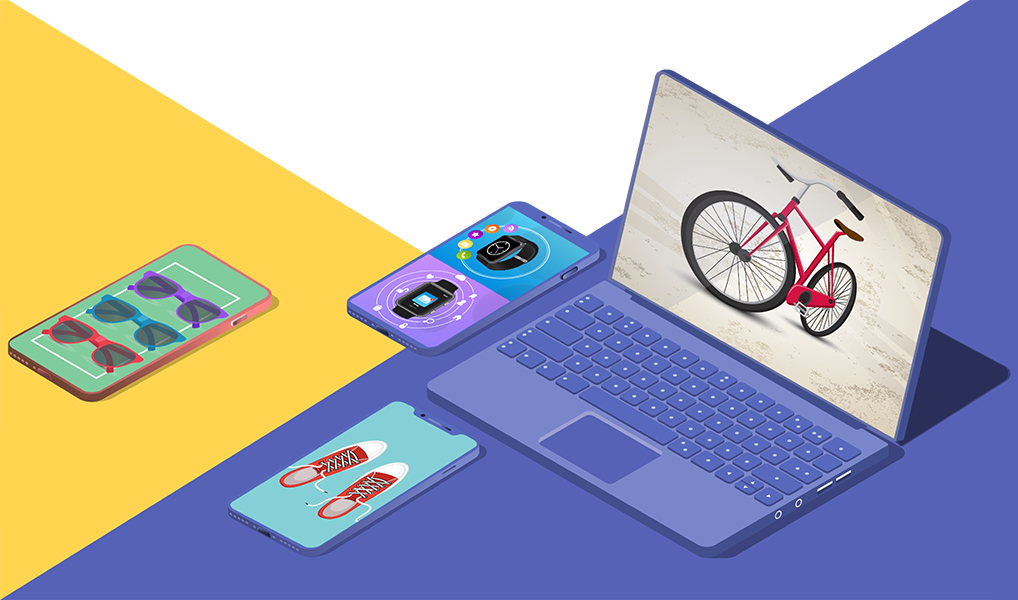 WEBSTORE
Sell more with a webstore
Easily sell online and ship orders with your own webstore — no matter what type of business you have. Whether you're starting out or bringing your established brand online, Market webstore is designed for you.
Free 14-day trial – no credit card required.
Your own storefront
Market allows you to beautifully showcase your products online you're your own storefront. You can choose one of our easy-to-customize Market Themes, upload your own logo, and publish your webstore quickly. Best of all, your webstore will work seamlessly on any device.

With the help of our Theme Editor, you don't need any coding or design experience. Easily manage and edit your webstore's content, add new products, and begin accepting orders with our user-friendly tool. You could make your first sale the same day you sign up!

Market will also host your webstore on our blazing-fast servers and set up SSL. No need to worry — we have the technical side covered.
Learn about customizing your theme with Theme Editor
Meet your customers wherever they are
Market has you covered no matter how you meet shoppers — online, local pickup and delivery, on Instagram, or all the above. Showcase your products on your webstore and easily allow shoppers to browse your merchandise, add items to their cart, and check out efficiently.

With Market's powerful commerce integrations, you can add features and functionality to your webstore and grow your business in other ways. Raise your search rankings with SEO tools; sell on Instagram, Facebook, and Pinterest; build your email list, and more.
Learn more about Market Platform
We handle the specifics
When you sign up for Market, we take care of the technical aspects so you can focus on building your online business. If you need any help, our dedicated support team will assist you.
Everything you need to sell in one place
Support
You can email, chat, or call our dedicated support team if you encounter any issues. Before directly reaching out, you can find commonly-asked questions, user guides, and video tutorials in the
Anamo Support
website. Get involved in our community on the
Market Made Simple
forum.
Mobile-optimized themes
Market Themes are optimized for modern browsers and mobile devices alike, ensuring that your webstore will work great on every device.
Edit content
Easily create pages, write in a different language, add a link to your webstore's navigation, and more.
Customize your webstore
Use Theme Editor to upload a new logo, change colors and edit your webstore's appearance with ease.
Free updates
Market is constantly adding new features to your webstore. Rest assured that any future updates will always be free.
Simple payment & checkout
Offer secure payment and checkout experiences on every device with Market Cart. Shoppers can pay using cards, digital wallets, crypto currencies, and local payment methods.
Create promotions
Create coupon codes, apply automatic discounts at checkout, upload new banners, and put products on sale.
Offer shipping & pickup
Set up shipping options for your webstore, including pickup, flat-rate, weight-based, real-time, and location-based rates. Improve your average order size by offering free shipping to your shoppers.
Manage orders
Market keeps track of all your orders and shopper data. Export your orders using CSV files. Additionally, use the Market app to fulfill orders and reach out to customers with ease.
Email & text message templates
Customize your automated webstore notifications with the design and language of your choice.
SEO-ready out of the box
Help shoppers find your webstore using search engines. Market supports SEO-best practices like customizable H1, title, and meta tags.
Get found easily
Present your business address, location map, hours, and contact information on your webstore in a clear and easy-to-read section.
Rich product listings
Showcase your products at their absolute best with rich product descriptions, embedded videos, images, related products, and more.
Product catalogs
Organize your products by category and help shoppers find exactly what they're looking for with intuitive menus.
No hidden fees
We'll never charge you extra fees for things like bandwidth or setup.
Use your own domain & email
You can use any domain name with your webstore. What's more, you get unlimited email forwarding for free — shoppers see your email address as the sender of every message, so they can easily reply.
Free SSL certificate
Every Market webstore includes a free 256-bit SSL certificate to keep your shoppers' information and business data secure.
There are more ways to sell with Market than webstores